Article for how to buy AC. What parameters are to be checked : This article will provide a basic information about AC, it's types. Must read before buying a AC. We have cover almost all points in this ac buying guide.
Let's see what is an AC :
AC buying guide, AC stand for air conditioner, is an electric machine that provide us an option to control the temperature of your room as per your convenience. We have to set a temperature of AC as per outside temperature. An AC works on the same technology as per the refrigerator, but this is in a larger extent. The difference is, fridge keep the cool are inside and AC throw out.
It absorbs the heat from the room and decrease the temperature with the help of 'refrigerant'. This chemical gets vaporized after absorbing some heat from room and the rest of the heat is ventilated through the exhaustion panel of the device. In this way, AC helps you to get cool in the burning summer atmosphere. So please find below the ac buying guide for you. This is one of the most useful equipment of you home appliances. Thats why we have given this AC buying guide.
1] Types of Air Conditioners
There are four types AC are available in the market :
Split AC
Window AC
Portable AC
Inverter AC
A] Split AC :
Split AC, the name itself expressing the description of the type. This system is divided in two parts, one unit mounted outside of the house and the other one is fitted inside in the house-room. The outside unit involves a compressor and condenser. Compressor sucks the air from outside and made cool it, then passes to the in-house unit blower with connecting pipe to. This cooling air spread in room through the blower unit.
Split AC is more beautifully pleasing compared to other AC models. It is able to cool the bedroom and even large area of halls and commercial places.
This AC is perfect selection for the bedroom because it makes very less noise. Split Air condition's compressor, condenser contain noising unit is set at outside.
This type of AC has better air flow to quick cooling.
This model can be installed in anywhere in any room, need not to worry for window or frame. Now a days Split ACs are more attractive and available in descent color as well. Split ACs are became a decorating things.
➤ Drawbacks of split AC
> Split AC is normally more expensive than window AC.
> These AC's are difficult to shifting or reallocating one place to other as it has two units.
B] Window AC
It has only one unit with a combination of compressor and blower within one unit. That's why it is cheaper than split AC. It can be installed in the window frame. Blower side of AC facing inside the room and suction is facing outside for fresh air. Make sure the dimension of your chosen unit should be fit in the window.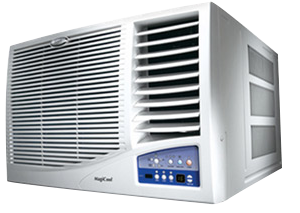 Factors in Window AC
These ACs are very simple to install as only unit to be placed. Easy to shifting and fits in budget.
Makes more noise as compressor unit is very near to us.

C] Portable AC
Portable AC can be easily port just like cooler. These ACs are convenient as it easily move from one room to another room in few minutes, whereas other types cannot. Portable AC is good for those people who are living in a rented house and frequently reallocating the place. The unit on wheels and are vented through a hose which is to be placed in a window. This type of AC is need not to install anywhere, just needs to arrange air hose through the window. A plastic hose is provided with the unit as window kit, you have to attach it to AC unit and put the other end to outside the window.
Factors of portable AC :
This AC is as easy as our bag to shifting and reallocation it. Just pack in proper box and ready to move out. No need of any technician or more precaution.
Not require to install. Within 10 minutes you can shift AC and make it for ready.
They are little bit expensive.
D] Inverter AC
Inverter AC mean it not runs on inverter or its not runs even in electricity cuts. This is an inverter technology, which uses for convert AC current to DC current which will help to regulate the compressor speed.
Whereas other AC compressor motor sometime go "on" and "off", but this type of AC compressor is always in "On" status and still saves a lot of electricity. When we make it "On", its compressor motor starts running at high speed to cool the room to the set temperature. Once it reach to the set temperature, it stops the compressor motor. When room temperature increases, it starts the compressor again.
The inverter AC motor is always "On" so there is no electricity peaks and save electricity a lot. This technology is just like a car accelerator. When compressor needs more power to cool, it gives more power and when compressor stop it consume very less power.
In near future most of the AC manufacturer will convert in inverter AC only.
| Descripton | Other AC | Inverter AC |
| --- | --- | --- |
| Compressor motor always | "On" and "Off" | "On" |
| Time to reach set temperature | More time | Less time |
| Electricity consumption | More | Less |
| Price | Expensive | Highly Expensive |
2. Cooling capacity :
Choosing the right capacity AC is little bit difficult. Oversized AC cools the room too faster than usual, so it consumes more electricity, whereas undersized AC is overload to cool the bigger space. So it's again consumes more electricity, even though not able to cool the room perfectly.
AC capacity depends on the size of the room. This capacity of AC is measured in tons. All types of ACs are available in various capacities range like 0.75 to 2 tons. Tons means it is not a weight of unit, but it is a measuring unit to determine the rate of AC can cool the area. It means a bigger area requires an AC with a higher tonnage and smaller area requires less tonnage.
For example :
If area in range of 120 to 150 Sq. ft. you will need 1 ton AC.
Suppose area between 150 to 175 Sq. ft. you will need 1.5 ton AC.
If area between 175 to 250 Sq. ft. you will need 2 ton cooling capacity AC.
It also matter the environmental condition, range of temperature, humidity and many more like :
Room has multiple windows and windows.
Room ceiling height.
Summer temperature exceed 40°C.
Room's floor.
Room walls directly facing to sunrays
Room ceiling is connected to open terrace.
Compressor unit mounted towards sun direction.
3. Energy Efficient :
Energy Efficiency Rating (EER) of AC is required to be displayed on modern air conditioners. Units with higher EER ratings means consuming less energy. Now a days, due to increasing in global warming levels and more utilization of electricity, an energy efficient units are must. ACs come with star rated energy efficiency ratings, this EER has been standardised by the Bureau of Energy Efficiency (BEE). BEE provides stars to the ACs according their performance, this label range should be from 1 to 5 stars. The unit with more stars will consume less electricity and lower star rating consume more.
4. Brand selection :
The brand who providing longer warranty would be a preference for your purchase, to confirm this check the manufacturer authorised website.
Look for a service oriented brand which has able to provide the good service and good servicing network which will be easily available to nearby you. Check the reviews and compare the model from reliable sources, outlets and authorise sites. Ask for performance of brand and model, from relatives and friends who have recently purchased one. Also check for the manufacturing year of the unit, because latest model has more features than previous.

5. Type of Coil :
In the AC, coils are used to convert gas refrigerant to liquid refrigerant, which is further cool the room. These coils are made from copper or aluminium. The copper has high heat transfer rate, less corrosive and high strength compare to aluminium. Only things is that the aluminium is cheaper than copper, so to keep the price in range some brands are using aluminium. Prefer for copper coil only.
6. Additional features to be checked :
These are the addtional features of ac buying guide.
Timers setting
Programs for different power levels for different times of the day, turn on the AC before you reach to home.
Cooling speed.
Sleep mode : This function to auto adjust the temperature at night.
Auto restart : This facility is to help restore the last setting in case of power interruption.
Dust Filters : It help to remove dust, odours and allergens. AC with a good filter is really important to improve quality of air. A good filer is prevent the choking of coil because of dust, as a result AC supply clean air as well as it improve cooling performance and energy efficiency. For better performance it has to be cleaned with plain water once in a month, obviously its depending upon your usage.
Dehumidification function : Most of ACs are having dehumidification function, which help us by reducing humidity from air and increased cooling performance for more comfort.
Check for noise levels of the unit, it should be within range of 20 to 60 decibels. Cooling functions for minimum cooling and maximum cooling.
Smart AC function allowing you to control and adjust it from smartphone.
Hot & Cold ACs : Today AC not only used for cooling purpose, but also be used for heating in winters. These Hot & Cold ACs also more energy saver than heaters.
Anti-bacteria filter : These filters removes invisible substances like dust, bacteria, bugs and other allergens. In-short it makes refreshing room environment and helps to increase the life of AC.
Auto clean function : It the bacteria formation into the inside of AC. It affects cooling functionality and increase AC life.
Auto detection : These smart ACs sets temperature setting in its memory chip to adjust the temperature itself with changing in outside temperature or humidity. Some ACs having advanced technology to detect the number peoples in a room and adjust the cooling temperature based on their body temperature.
SMS functionality : Actually ACs are takes 10 to 15 minutes to cool the room. This feature allows you to send the SMS with your set number and switch on the unit. Send the SMS from your cell before 15 min you reach home and you can switch "On" the unit. So when you reach at home you get cool, refreshing environment immediately.
TIPS FOR SELECTION :
AC buying guide will provice you some basic tips to select it.
Buy an AC in the winter season, so wake up and grab your AC, prior to the upcoming summer season.
Wherever you buy AC, you must check your unit thoroughly. This will ensure you that there is no problem in the unit.
If you prefer a split AC, you should keep the number of windows of your room, much air ventilation may impact on cooling rate.
Select the unit as your usage :

Your AC usage is 8 to 10 hrs a day and used for 4 to 5 months, then you should buy at least 3 Star rated AC.
Your usage is more for 5 to 7 months, you should buy 5 Star rated AC.
If your usage for near about all months then should buy Hot & Cold Inverter AC.

Most of the electrical products should be protected from dust and excessive heat.
TIPS TO MAINTAIN THE AC : Through ac buying guide
ACs are need regular servicing to keep them in best condition, after installation, it should be regular servicing, most preferably quarterly.
Filter Location should be easily accessible to cleaning the filter, keep the unit in proper condition.
Make a smart investment this summer by choosing a correct AC that fulfil your all above requirements and offers you joy.