Best way to buy Microwave oven :
One more home appliances to help us cooking more efficient and quicker, so it can save our time and energy. Microwave oven is generally use for reheat, grill or even bake. It help us to cook so many recipes and food items like popcorn, chicken grills, kebabs, pizza, muffins. There are so many factors to consider while selecting the best microwave oven for your best home. This microwave onve buying guide.
Best way to buy Microwave oven :
1. Types of Microwave oven :
There are three types of microwave ovens available in the market, this is very important decision to the selection of microwave oven.
a) Solo microwave oven
Solo microwave ovens are first level models in microwave oven category for simple cooking only. Useful for reheat and simple cooking.
b) Grill microwave oven
Grill Microwave ovens are available with additional grilling accessories. They are best suitable to grill meat or vegetables like.
c) Convection microwave oven
Convection microwave ovens use best for grilling and baking. The decision is based on what you need to cook. Below table will help you to choose the right type of microwave oven.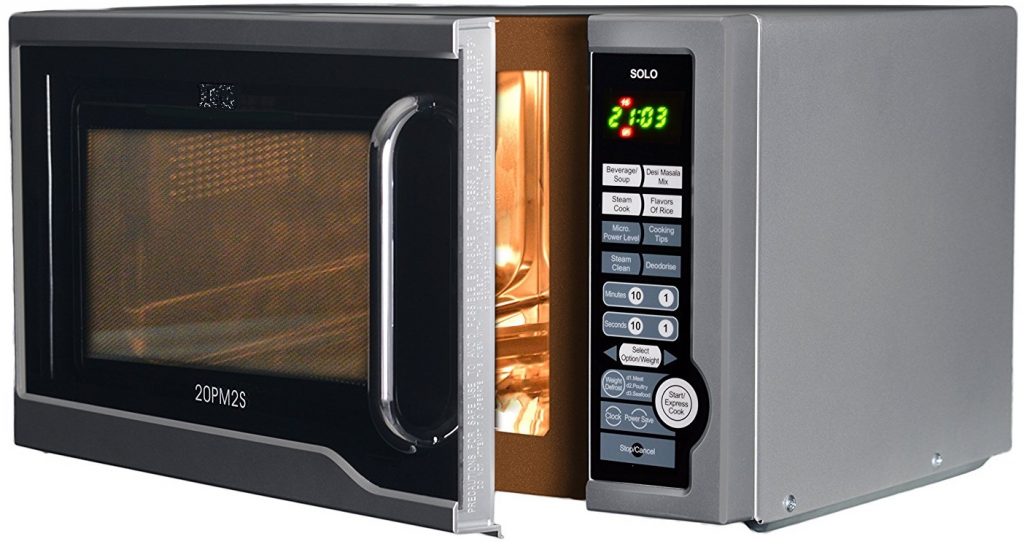 | Food items | Solo | Grill | Convection |
| --- | --- | --- | --- |
| Reheat foods | √ | √ | √ |
| Pop-Corn | √ | √ | √ |
| Tea or Coffee | √ | √ | √ |
| Grilled Items | | √ | √ |
| Tandoori Chicken | | √ | √ |
| Cakes, Brownies & Breads | | | √ |
| Pizza | | | √ |
2. Size and capacity:
You should first decide the size of your oven as Microwaves come in multiple sizes. You want bigger compartment or two smaller compartment. Smaller oven is more efficient for one item to heating up. If you bake a lot and you need more space for a turkey, special baking then you should require big compartment. Make sure to measure your existing space, what is kitchen size and what foods you are going to cooking before going to buy.
This size will decide the capacity of your oven. Capacity of oven is measure in liters. It is indicating that how much food you can cook. For a small family micro oven, 15-25 liters is enough and for large family it requires 25-35 liters. If require more larger ovens are available in the market.
3. Heating features:
Actually for standard baking, ovens should heat from the top and bottom. The upper element is used only for roasting. Some oven has a setting that allow you to heats only from the bottom, it is work for pizza. Some models has fan for distribute heat equally to all.
4. Power consumption
Higher wattage ovens normally cook faster and more evenly than lower wattage ovens. This information listed on the box or backside of the microwave.
5. Other features:
Check the features like timers, child-lock, auto cook set programs, defrost for reheat frozen food and preheat etc. Most of the ovens are having a safety feature that turns off the oven after certain time. Maximum ovens are usually come with baking trays and racks. Some models are provide many as you need. It is difficult to clean the oven, so better to get a self-cleaning oven.
Some ovens are come with a glass door so that we can easily check the food while cooking, but be sure the quality of glass. It can be broken while cleaning.
6. Selection of brand:
Info lips are always suggest you to select only those brands, who are having good service nearby in your area, easily available its parts and service engineer. It is very difficult to search the parts in the market.
Tips about microwave oven:
Long-term service contracts are not worth the price, generally they don't cover parts.
Some ovens have safety locks that disable operation. Be caution when children are around. If possible set the oven upper side, so that children will not reach easily to it.
Use glass utensils are microwave safe only.
Use plastic utensils microwave safe only
Do not use metal substances inside the oven.
Do not keep baby milk bottles in it.
Use microwave oven gloves while handling cooking pots, as microwave oven inside will be very hot during the baking process.
Do not believe on the internet rumours that microwave ovens contaminate food with radiation.
There is no health risk in eating microwave cooked food. Please check this link of US FDAare published that microwave ovens do not contaminate food.

Best option to buy online microwave oven are :
You can buy online from Paytm mall, Amazon and Flipkart etc