Article for buying Washing machine:
Short-lived to select washing machine is that the top or front loading machines are very easy to handle, more durable, less maintenance and less expensive. Whereas front loading machines are better in performance, efficiency, more set programs functions availability but more expensive too. Before go and select the washing machine do set your objects, some features of machine. Info lips provide you below information to keep you update and sound knowledge to choose better one.
Let's see what Washing machine can do :
Washing machine is help us to washing clothes. Having option in hot water, cold water and less quantity of water. We have to set the program which are already installed in the system. Washing machines are specify with its functions, capacity, loading type, set wash programs, digital display panel and many more.
1] Types of Washing machine
Generally there are two basic types of washing machine :
➤ Semi-automatic washing machine
➤ Fully automatic washing machine
A] Semi-Automatic :
This is basic level washing machine. Generally these washing machines are divided into two tubs, one is for washing and another for drying. This machine work in manual mode, it means for washing we have to put clothes in washing tub add required quantity of water and after washing manually shift the clothes in drying tub. In short these type of machines are work with help of manual work.
This machine don't control the water level or overflow of water, we have to check it and make a adjustment accordingly, then add detergent. Finally set the time and type of clothes. Machine gives a beep sound after complete the washing. Then rinse the clothes by adding fresh water in washing tub or rinse in bucket. Then again put the these washed clothes in drying tub and start the machine for drying.
If you really thinking that machine work for you as per your convenient and you feel relax, then semi-automatic washing machine is not for you. Mainly semi-automatic machine is buying to its low price.
Advantages :
Need not continuous water supply connection: Most useful feature is that machine does not required continues water flow as we manually adding water. So this is very useful where the limited time water supply or shortage of water.
We can control on the water usage.
Less consumption of electricity.
This machine allows to us to add clothes at any time even washing cycle started, no need wait till next wash cycle, whereas fully-automatic don't.
Disadvantages:
Even though machine, needs manual control and manual work.
Needs to be very careful while shifting or removing clothes, as there is risk of getting an electric shock, if it's not properly earthed. Every time we have to make sure by unplug he machine moving clothes.
B] Fully-automatic :
Fully automatic washing machines are really works automatic. It has only one tub for washing and drying. Human intervention is to put clothes add detergent, set the program and starts the machine. No need to add water and moves clothes from one tub to another. You can fully relax while washing or even you can go out too. Machine automatically get water for wash and rinse, dry the clothes and then switches off itself. You just remove washed clothes.
Advantages :
Minimum human involvement.
Based on latest technology.
Available multiple washing programs.
Option of inbuilt hot water supply.
Fuji logic functions and many more.
Disadvantages:
Compulsory requires continuous supply of water with adequate pressure.
These are expensive as based on advance technology.
Heavy weighted compare to semi washing machine.
These are difficult to transport because of heavy weight.
Consumes much electricity.
These machines are available in two variant:
➧ Top load
➧ Front load
a) Top load washing machine :
These variant machines are loaded from the top side. As it is fully automatic, it has a single tub which set as vertically.
Some features :
⇛ Loading and unloading from the top.
⇛ This variant is cost effective.
b) Front load washing machine
Clothes are loaded from the front side, its drum set as horizontally. These are launched recently as having advanced technology. It has more than 30 wash programs with advanced child lock.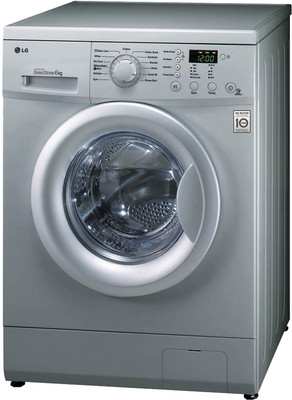 Some important features :
This machine is provide better wash quality.
More wash programs, as based on latest technology.
Specialist in wash soft and fine clothes.
Work in less quantity of water for soaking and washing.
Drawback :
You can't add clothes, after washing cycle started, we are unable to open the door, after socking time over.
Difficult to move as having heavy weight.
More expensive compare to top load machines.
2] Machine capacity :
Choice of machine is depend on number of members in the family, maximum members large capacity, or less number choose small capacity machine. There are lot of options available in the market to choose machine capacity. Generally it is measured in kilograms (kg). It means weight of the clothes that machine can manage.
There is no specific method to weigh these clothes. So it's better to load the drum up to 1/3. It will help machine to get enough space for better washing and motor can easily handle the load. Be sure the dimension of the machine should be fit in your home. Also set your budget before select one.
3] Type of tub/drum :
Stainless steel tub – These are most long lasting.
Plastic tubs – These are Long lasting than enamel tube.
Porcelain – enamel tub.
| | | |
| --- | --- | --- |
| | | |
| Stainless steel tub | Plastic tub | Porcelain tub |
4] Features of machine :
A) Inbuilt set washing programs:
i) Quick wash : Short time set for washing cycle, its suitable for less quantity of clothes. This very useful feature to save time, when we are in hurry. 
ii) Water level : Depend upon on the quantity of load.
iii) Gentle wash program for delicate clothes. 
iv) Options to save customize program. Manually set the program and as per our requirement and save it for future use. 
v) Soaking : Set specific time for soaking cloth in detergent water and then start the machine for washing. In between soaking time, machine allows you to add the clothes even after the cycle is on. We can manually adjust the time and set it. It gives better washing quality.
B) Steam Wash :
This feature is the most advanced feature and available in most expensive washing machines only. It uses steam, heat and humidity and passes on these clothes with forces.
C) Fuzzy logic function :
This feature sense the cloth of load and select the best washing conditions, like water quantity, cycle time and detergent quantity. There is no difficulty for us to set the machine program. This feature is vary as per brand.
D) Spinning cycle:
Basically this feature is use to drying clothes. Drying is depend on the rpm of motor. More rpm motors are drying cloths fast more efficiently.
E) Heat water :
This feature helps us to control the temperature of water. As compare to cold water, hot water will clean your clothes much better. Temperature control is very useful in winter.
B) Steam Wash :
F) Air dry cycle : This feature will sucks air to dry the clothes
Last line :
The more features will increase cost, so chose the one that meets your all necessities. !!!!!!!