What is Cred App : India's Popular Credit Card Payment Platform
In recent years, India's Fintech Landscape has been booming, with several innovative startups making their mark in this industry. One of the most popular and widely-used platforms is the Cred app. The app is launched in 2018, the Cred app has quickly gained a large following of users who are looking for a convenient and secure way to manage their credit card payments.
Hello friends, In this article, we'll explore what is Cred App? How it works, and its benefits for users and its features. Learn how this popular credit card payment platform is revolutionizing the way people in India and manage their finances accordingly. What is cred pay UPI, Cred company and its store? So let's begin to know What is Cred App?
Cred App details:
What is Cred App?
Cred is a credit card management platform that allows users to make their payments, track expenses, and earn rewards. It was founded by Kunal Shah, the co-founder of FreeCharge, and is available on both Android and iOS devices. It head quarter is in Bengaluru, India.
The app has gained immense popularity in India, thanks to its user-friendly interface and innovative features. It is really easy to manage your payments and track the record.

The app aims to simplify the process of paying credit card bills by providing a seamless, one-click payment experience.

Cred also offers users a chance to earn rewards points, which can be redeemed for various products and services from its partner brands. To use the app, users must have a valid Indian phone number and a credit score of at least 750, that's all.
O-key! We know the company, and What is Cred App, let's understand it's working concept.
How Does Cred Work?
To use Cred, first we have to download the app from store.
Users must sign up for the app and link their credit card accounts. Once the account is linked, users can view their credit card bills and make payments directly from the app. Cred offers a streamlined payment process that allows users to pay their bills with just a few clicks.
In addition there are some more services provided to making payments. Cred App also offers users several features to help manage their finances. Users can track their expenses, set reminders for due payment dates, and view their credit score.

Cred also offers rewards and cashback offers for users who make timely payments and maintain a good credit score. You will get guaranteed cashback for your every card payment. Let's see what is the use of cred app
| Related : Best Credit Card For Amazon In India – 4 Cards (Read more)
What is the benefit of using CRED app?
Streamlined Payment Process:
Cred offers a fast and convenient way to make credit card payments. Users can make payments with just a few clicks, without having to log into their bank's website.

Expense Tracking:
Cred allows users to track their expenses and keep a record of their spending habits. This feature can help users identify areas where they can cut back on expenses and save money.

Credit Score Monitoring:
Cred offers users access to their credit scores and provides tips on how to improve them. This feature can be especially helpful for users who are looking to apply for loans or credit cards in the future.

Rewards and Cashback:
Cred offers users rewards and cashback for making timely payments and maintaining a good credit score. These rewards can be used for a variety of purposes, such as shopping, travel, or dining.

Till now I have won more than 2000+, just using this app to pay our credit card bills only.

Other Offers:
This app offers online, loan, UPI pay and other online purchase offer with different partners. Like TataClicQ, Byjus, Flipkart, Puma, and many more etc.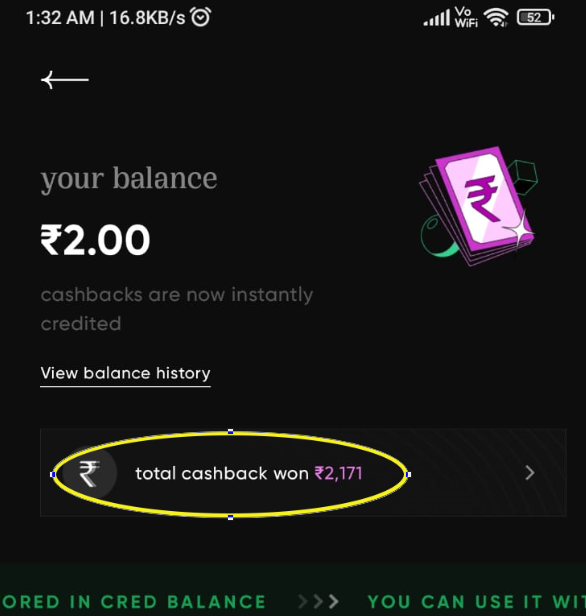 O key! it's time to check its disadvantage. If it is having advantage then it's our duty to check its disadvantage too. So take a look on it.
What are the disadvantages of CRED app?
Actually there are very less disadvantage of of CRED app.

1) It is only available to users in India who have a credit score of at least 750. So this app may having limit of accessibility to a significant portion of the population.

2) While the app offers rewards for paying credit card bills, users may be incentivized to spend more money on their credit cards to earn more rewards, potentially leading to overspending and debt.

3) There is also a risk of security breaches and identity theft, as the app requires access to sensitive financial information.

4) Finally, Cred's partner brands may not always offer the most competitive rewards, so users should carefully consider the value of rewards before redeeming them.

In overall, again it's our duty that the rewards are really good for you then only do the activity or your spending.
So we have seen, what is Cred app, how it work and what are its benefits, let check whether is it approved by RBI or not.
Is CRED app approved by RBI?
CRED App operates in compliance with NPCI (National Payments Corporation of India) guidelines. NPCI is a payment system operator authorized by the Reserve Bank of India (RBI).

So we can say that the CRED is indirectly authorized by RBI as its compliance company is authorized by RBI.
So, up to this we have got a good info about CRED, lets understand how it start and who can do this.
|Related : Top 5 Credit Card Networks In The World (Read more)
Who is eligible for CRED?
⇒ Once your credit score is checked from credit bureaus like CIBIL, Experian and CRIF, and your score more than 750, then you are eligible to apply this app. (CIBIL score > 750)

⇒ Install the app, fill your details, verify your number, you will be accepted as a member of CRED.
⇒ After that you have to add your credit card, to pay your card bill through CRED, verify your email ID to track your future bills.
⇒ Once you become a member, you will be able to access the curated set of exclusive rewards and privileges that are offered by CRED.
⇒ Pay your bill and enjoy the rewards. (Click here to apply)
Services offered by CRED:
What does cred app do?
1) Is CRED cash a loan? – Yes !
Cred offers, short-term credit line, personal loan whose tenure ranges from 1 month to 48 months, as per its CIVIL score.
CRED Cash is currently available in partnership with IDFC First Bank as the lender.
Most important thing is that, you can check your amount, EMI, processing fee and other related information on your screen. So there is no hidden charges. So we can get an complete idea of our loan amount.
2) What is Cred App store?
Cred offers, online shopping through its app with their partners. They offers discount coupon for this and
discounting percentage with their app.

We collect the cred coins by paying our bills. These cred coins we can use for lucky wheel, where we will get a chance to win these offers. So this, what is cred coins?
I got a Byjus's premium subscription twice for 15 days, worth Rs.2000. One 25% discount coupon code of TataClicQ which was used for External HHD.
3) CRED Pay offer:
Cred also offers payment facility like other pay apps are providing. Utility bills, Rent Payment, Gas Payment and others. Just like G-Pay or PhonePay.

I hope got more info about What is Cred App and it working concept.
Why is CRED popular?
There are few reason that cred app has become more popular in India.
1. User-friendly interface :
This app has a very user-friendly interface and innovative features that simplify the process of paying credit card bills.

2. One click payment option:
The app offers a convenient one-click payment experience that eliminates the need for users to log into multiple banking apps or websites to pay their credit card bills. This feature has made the app particularly popular among young professionals and individuals with busy schedules who value convenience.
3. Rewards program :
The app offers users rewards points for paying their credit card bills on time, which can be redeemed for a variety of products and services from CRED's partner brands. This feature has made the app popular among individuals who enjoy earning exclusive rewards for your spending.
4. Cash back offers:
The app offers cash back option for every bill payment, offered cash back can be used for paying your credit card bill or purchase online.
5. Great offers:
CRED has successfully positioned itself as a lifestyle app rather than just a financial management app. The app features a sleek design, engaging content, and partnerships with luxury and lifestyle brands.

This has helped the app to appeal to a broader audience beyond its primary function of managing credit card bills.
6. CRED's marketing campaigns:
CRED's marketing campaigns have also contributed to its popularity. The app has launched several attention-grabbing campaigns featuring high-profile celebrities, which have helped to raise brand awareness and drive user adoption.

7. Refer and earn offer:
CRED offers refer and earn option, with great rewards.
8. How to earn rewards on CRED?
Members can earn rewards in two different ways. CRED coins & gems.
A) CRED Coin Rewards:
when you pay your credit card bill on CRED, for every rupee cleared on your bill you earn a CRED coin.
you can then use earned CRED coins to claim exclusive rewards from different brands.
B) CRED Gem Rewards:
for every person that you refer to CRED who makes a bill payment, you earn 10 gems.
So overall these are the main reason behind the CRED's popularity in very short period. You can check its google app rating and understand that what its craze!
What Is Cred Club?:
CRED Club is a premium subscription service offered by the CRED app in India. It is designed to reward users for good credit behavior and provides a range of exclusive benefits and perks.
To become a member of CRED Club, users must have a credit score of 750 or above and make a payment of a monthly or yearly subscription fee. Once enrolled, members can access a variety of benefits, as follows:
Exclusive rewards and offers from CRED's partner brands:
CRED Club members can enjoy discounts and special offers on a range of products and services from premium brands across various categories such as lifestyle, travel, health, and entertainment.

Access to premium content and events:
Members can access exclusive content, including masterclasses and webinars, hosted by industry leaders and experts. They can also receive early access and discounted tickets to premium events.

Higher reward points and cashback offers:
CRED Club members can earn higher reward points and cashback offers on payments made through the CRED app.
Free credit report and analysis:
Members can access their credit report for free, which includes a detailed analysis of their credit score and insights to improve it.
Personalized financial assistance:
CRED Club members can access personalized financial assistance and advice from CRED's team of experts.
Overall, CRED Club is designed to provide users with a premium experience that rewards good credit behavior and offers a range of exclusive benefits and perks.
FAQs:
Q. Is Cred app safe to use?
A. Yes, Cred is safe and secure to use. The app uses advanced encryption technology to protect users' personal and financial information.

Q. Is CRED app trustworthy?
A. Yes, Cred is safe and secure to use. The app uses advanced encryption technology to protect users' personal and financial information.

Q. How does Cred make money? or What is Cred App way to generate money.
A. Cred makes money by charging a fee to credit card companies for each payment made through the app. The app also earns revenue from partnerships with various merchants and brands.
Q. Can I use Cred to pay my credit card bills for multiple cards?
A. Yes, you can link multiple credit card accounts to your Cred app and make payments for each one.
Q. Is CRED registered in India?
A. CRED is an Indian Fintech company, based in Bangalore. Founded in 2018 by Kunal Shah.
Q. Which company owns CRED app?
A. FreeCharge was acquired by Snapdeal in 2015. After that In 2018 he set up CRED app where users can make credit card payments and earn rewards.
Q. What is the full form CRED? or What is Cred App?
A. There is no full form for CRED. Cred is an abbreviation of credibility, nothing else.
Q. What bank is behind CRED AI? or Is cred ai a bank?
A. No,
It is a software company. The bank account and credit card is issued by Wilmington Savings Fund Society, FSB ("WSFS Bank").
Q. Is CRED a Chinese company?
A. No, Cred is the latest instance of Chinese investors offloading their stakes.

Q. What is today's repo rate?
A. Current repo rate in India is 6.50%.
It is declared by RBI, as per the recent update on February 2023. This parameter is set on by 25 different basis points.
Q. Can I use CRED without credit score? or
Can I install CRED without credit card?
A. Yes!, When install app and verify your credit card, by that time cred check your score with your permission. If you are eligible, you card is linked with the app otherwise not.
Q. Does CRED affect credit score?
A. No!
You are not applying for any loan of any other money borrowing process, so checking your own credit scores on CRED is not considered a hard inquiry.

Conclusion:
So in overall, we seen everything about What is Cred App. Cred App is a game-changing platform that has revolutionized the way people in India. With this app, it is easy to manage credit card payments. Its innovative features, such as expense tracking and credit score monitoring, make it an essential tool for anyone looking to stay on top of their finances.

With its user-friendly interface and robust security measures, Cred is quickly becoming one of the most popular Fintech platforms in India. Whether you're a frequent credit card user or just starting out, Cred can help you take control of your, in terms of your expenses as well as it payment in-time.

I think is it good to use, safe secure and keep control our spending and getting cashback reward make cherry on the cake.
I hope you understand the CRED app, What is cred app? its benefit and disadvantage, its concept and other offers. If you really think that you get something extra and it helped you to get sound information. Please share it with your loved ones, Infolips will highly appreciate you, thanks a lot for your valuable time!
Happy infolipsing!
Find more information on finance :
1] What is insurance :
2] SBI Annuity Deposit
3] What Is Credit Card?
4] Credit Cards for Amazon
5] 8 Tips To Help Keep You Safe
6] Difference Between EMI Card And Credit Card
More click for you :
➥ Marathirang.com : For Lovely Marathi Kavita
➥ Smart School – Grammar/Essays.
➥ Sports Site – Know about Sports
➥ Tech Site – Tech for right your kind.
➥ Shopping Site – Shop online.